Hemochromatosis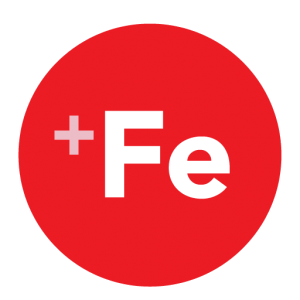 Hereditary Hemochromatosis (HH) is a genetic disorder that causes the body to absorb too much iron (Fe) from the diet. The excess iron is stored in the body's tissues and organs, particularly the skin, heart, liver, pancreas, and joints.
Because humans cannot increase the excretion of iron, excess iron can overload and eventually damage tissues and organs. For this reason, hereditary hemochromatosis is also called an iron overload disorder.
Early symptoms of HH are nonspecific and may include fatigue, joint pain, abdominal pain, and loss of sex drive. Later signs and symptoms can include arthritis, liver disease, diabetes, heart abnormalities, and skin discoloration.
Although penetrance is more commonly an issue with autosomal dominant disorders, it appears to be an issue in hereditary hemochromatosis. Thirty to fifty percent of those with homozygous genotypes do not have clinical evidence of hemochromatosis. Many factors, including alcohol consumption, dietary iron intake, blood loss associated with menstruation and pregnancy and blood donation, influence the expression.
Hereditary hemochromatosis is classified by type depending on the age of onset and other factors such as genetic cause and mode of inheritance.
There are 4 types of HH, types 1 through 4.
Type 1, the most common form of the disorder, and type 4 (also called ferroportin disease) begin in adulthood. Men with type 1 or type 4 hemochromatosis typically develop symptoms between the ages of 40 and 60, and women usually develop symptoms after menopause.
Type 2 hemochromatosis is a juvenile-onset disorder. Iron accumulation begins early in life, and symptoms may appear in childhood. By age 20, decreased or absent secretion of sex hormones is evident. Females usually begin menstruation in a normal manner, but menses stop after a few years. Males may experience delayed puberty or symptoms related to a shortage of sex hormones. If the disorder is untreated, heart disease becomes evident by age 30.
The onset of type 3 hemochromatosis is usually intermediate between types 1 and 2. Symptoms of type 3 hemochromatosis generally begin before age 30.
Genetics:
Type 1 Hereditary Hemochromatosis results from a genetic mutation to the HFE Gene on Chromosome 6 and may involve the C282Y, H63D, or S65C alleles. This type is one of the most common genetic disorders in the United States, affecting about 1 million people. It most often affects people of Northern European descent. The other types of hemochromatosis are considered rare and have been studied in only a small number of families worldwide.
Mutations in several genes, including HAMP, HFE, HFE2, SLC40A1, and TFR2, can cause hereditary hemochromatosis. Type 1 hemochromatosis results from mutations in the HFE gene, and type 2 hemochromatosis results from mutations in either the HFE2 or HAMP gene. Mutations in the TFR2gene cause type 3 hemochromatosis, and mutations in the SLC40A1 gene cause type 4 hemochromatosis.
The proteins produced from these genes play important roles in regulating the absorption, transport, and storage of iron. Mutations in any of these genes impair the control of iron absorption during digestion and alter the distribution of iron to other parts of the body. As a result, iron accumulates in tissues and organs, which can disrupt their normal functions.
Types 1, 2, and 3 hemochromatosis are inherited in an autosomal recessive pattern, which means both copies of the gene in each cell have mutations. Most often, the parents of an individual with an autosomal recessive condition each carry one copy of the mutated gene but do not show signs and symptoms of the condition.
Type 4 hemochromatosis is distinguished by its autosomal dominant inheritance pattern. With this type of inheritance, one copy of the altered gene in each cell is sufficient to cause the disorder. In most cases, an affected person has one parent with the condition.
Who Inherits Hereditary Hemochromatosis?
Type 1 hereditary hemochromatosis most commonly results from a homozygous gene mutation or a compound heterozygous gene mutation. A homozygous gene refers to two mutations of the same allele, whereas a heterozygous gene indicates there is one mutation of an allele.
Since there are several alleles that affect iron absorption (C282Y, H63D, or S65C) another possibility is having two, different heterozygous mutations simultaneously. When this occurs, an individual is known as a compound heterozygote.
A short summary of the most common HFE Gene Mutation patterns:
Homozygote for 2 "Missense" Copies of the C282Y Allele. 
Compound Heterozygote for 1 "Missense" Copy of C282Y and 1 of H63D or S65C.
Certainly, when a person's genetic profile possesses 2 mutations of the HFE gene (as described above) their health is at high risk of iron overload.
By the numbers, 1 in 200 people of Northern European descent have two genetic mutations of the HFE gene. This includes individuals homozygous for two copies of the C282Y gene as well as compound heterozygote individuals (C282Y + H63D).
Additionally, the numbers tell us that 1 in 9 individuals of Northern European descent are carriers of one HFE gene. This means that having a single hemochromatosis gene is not uncommon!
Pathophysiology:
Iron from the diet is normally stored by the body in the bone marrow, with small amounts stored in the liver (to form new red blood cells).
Normal total body iron content is about 2.5 g in women and 3.5 g in men. Because symptoms may be delayed until iron accumulation is excessive (e.g. > 10 to 20 g), hemochromatosis may not be recognized until later in life, even though it is an inherited abnormality. In women, clinical manifestations are uncommon before menopause because iron loss due to menses (and sometimes pregnancy and childbirth) tends to offset iron accumulation.
The mechanism for iron overload in both HFE and non-HFE hemochromatosis is increased iron absorption from the GI tract, leading to chronic deposition of iron in the tissues. Hepcidin, a liver-derived peptide, is the critical control mechanism for iron absorption.
Hepcidin is normally upregulated when iron stores are elevated and, through its inhibitory effect on ferroportin (which participates in iron absorption), it prevents excessive iron absorption and storage in normal people. Hemochromatosis types 1 through 4 share the same pathogenic basis (lack of hepcidin synthesis or activity) and key clinical features.
In general, tissue injury appears to result from reactive free hydroxyl radicals generated when iron deposition in tissues catalyzes their formation. Other mechanisms may affect particular organs (e.g. skin hyperpigmentation can result from increased melanin as well as iron accumulation). In the liver, iron-associated lipid peroxidation induces hepatocyte apoptosis, which stimulates Kupffer cell activation and release of pro-inflammatory cytokines. These cytokines activate hepatic stellate cells to produce collagen, resulting in pathologic accumulation of liver fibrosis.
Clinical Picture:
The clinical consequences of iron overload are the same regardless of the etiology and pathophysiology of the overload.
Early symptoms are often nonspecific, so it is important to consider hemochromatosis as a diagnostic consideration for nondescript symptoms like chronic fatigue, features of diabetes mellitus, arthralgia and loss of libido. The most common presenting symptoms for hereditary hemochromatosis are weakness, abdominal pain, or joint pains. Many cases are asymptomatic. Northern European ancestry is important, and the frequency for hereditary hemochromatosis is highest in Northern European populations or descendants. Italians, Greeks and Ashkenazi Jews are at lower risk as these populations have a lower allele frequency.
Historically, experts believed that symptoms did not develop until significant organ damage had occurred. However, organ damage is slow and subtle, and fatigue and nonspecific systemic symptoms and signs often occur early. For example, liver dysfunction can manifest insidiously with fatigue, right upper quadrant abdominal pain, and hepatomegaly. Laboratory abnormalities of iron overload and hepatitis usually precede symptoms.
In type 1 hereditary (HFE) hemochromatosis, symptoms relate to the organs with the largest iron deposits. In men, the initial symptoms may be hypogonadism and erectile dysfunction caused by gonadal iron deposition. Glucose intolerance or diabetes mellitus is another common initial presentation. Some patients present with hypothyroidism.
Liver disease is the most common complication and may progress to cirrhosis; 20 to 30% of patients with cirrhosis develop hepatocellular carcinoma. Liver disease is the most common cause of death.
Cardiomyopathy with heart failure ± arrhythmias is the 2nd most common fatal complication. As well as building up in other organs of the body, iron levels can build up in the heart. This happens slowly, and the heart may continue to work well until the overload becomes quite advanced. This can cause restrictive or dilated cardiomyopathy. 
Hyperpigmentation and porphyria cutanea tarda are common, as is symptomatic arthropathy (particularly affecting the fingers).
Joint abnormalities are common and often lead to morbidity and loss of quality of life. Joint disease often is an early manifestation of hemochromatosis and may be the symptom complex that leads to hemochromatosis diagnosis; however, a high index of suspicion must be maintained because the joint findings mimic those seen in other common rheumatologic conditions. An arthropathy associated with hemochromatosis was first described by Schumacher in 1964. The rate of occurrence of arthritis in persons with hemochromatosis has been variously estimated depending on the design of the study. Rates of about 50% have been reported when rigorous criteria are used to define arthritis, and rates have varied in other survey-based studies.
Hemochromatosis is sometimes referred to as bronze diabetes because it can lead to darkening/tanning of the skin and hyperglycemia with thirst and increased urination. Hyperpigmentation may be generalized but is often more apparent in sun-exposed areas.
In type 2 disease, symptoms and signs include progressive hepatomegaly and hypogonadotropic hypogonadism.
In type 3 disease, symptoms and signs are similar to type 1 hereditary (HFE) hemochromatosis.
Type 4 disease manifests in the first decade of life as increased serum ferritin levels with low or normal transferrin saturation; progressive saturation of transferrin occurs when patients are in their 20s and 30s. Clinical manifestations are milder than in type 1 disease, with modest liver disease and mild anemia.
Transferrin and ceruloplasmin deficiency:
In transferrin deficiency (hypotransferrinemia or atransferrinemia), absorbed iron that enters the portal system not bound to transferrin is deposited in the liver. Subsequent iron transfer to sites of RBC production is reduced because of transferrin deficiency.
In ceruloplasmin deficiency (aceruloplasminemia), lack of ferroxidase causes defective conversion of Fe2+ to Fe3+; such conversion is necessary for binding to transferrin. Defective transferrin binding impairs the movement of iron from intracellular stores to plasma transport, resulting in the accumulation of iron in tissues.
Diagnosis:
Early diagnosis of hemochromatosis is essential to prevent irreversible organ damage. The diagnostic workup includes a thorough medical history, physical examination, and laboratory tests. Key laboratory findings include elevated serum ferritin, increased transferrin saturation, and elevated liver enzyme levels. Genetic testing for HFE gene mutations can help confirm the diagnosis and identify family members at risk.
Since hemochromatosis potentially involves more than one organ system, it is important to refer a suspected case to a family physician or general internist who can then coordinate examinations, testing, and results from various specialities, as well as genetic testing.
Liver, pancreatic, cardiac, and joint disease should be confirmed by physical examination, radiography, and standard functional tests for these organs. It is probable that a patient with hemochromatosis may need care from rheumatology, endocrinology, cardiology, gynecology, pathology and hematology in addition to dermatology due to the potential for iron build-up in parenchymal tissues.
Iron stores can be assessed by measurement of serum iron, the percent saturation of transferrin, and measurement of serum ferritin concentration. The percent transferrin saturation and serum ferritin level provide a simple and reliable screening test for hemochromatosis, including the pre-cirrhotic phase of the disease. If either test is abnormal two or more times, the patient should be referred for genetic testing.
Fasting Transferrin Saturation: A fasting transferrin saturation persistently greater than 45-50% (reference is 15-50% for men and 12-45% for women) is the earliest marker of iron overload. Patients with elevated transferrin saturation on two or more occasions should have the HFE gene test.
Serum Ferritin: The reference range is 12-150ng/mL for women and 12-300ng/mL for men. Ferritin reflects increased iron stores, but it may also increase with alcohol consumption, liver disease, and acute illness. If ferritin is elevated, it is recommended to take another sample, ensuring the patient has been fasting, to assess levels a second time. If they are still elevated on repeat, then referral for HFE gene testing is recommended, particularly if transferrin saturation is also high or borderline.
Genetic Testing: Polymerase chain reaction-based methods can be used to diagnose a hereditary form of hemochromatosis. DNA may be obtained from blood or from buccal cells. Hereditary hemochromatosis is diagnosed in patients with iron overload if the HFE gene test shows either C282Y homozygosity or C282Y/H63D compound heterozygosity. A negative genetic test does not disprove the diagnosis.
HFE gene testing should be performed in all patients presenting with porphyria cutanea tarda.
All adult first-degree relatives of patients with hereditary hemochromatosis should be tested for the C282Y and H63D mutations. Homozygosity at the C282Y position of the HFE gene accounts for the majority of hemochromatosis cases. Genetic testing should be performed with informed consent and appropriate counselling.
Biopsy and Magnetic Resonance Elastography: Today, magnetic resonance elastography is used to assess fibrosis instead of liver biopsy. However, if this imaging method is unavailable, liver biopsy will show surplus iron visible on histologic examination of hepatic tissue, particularly after staining with potassium ferrocyanide.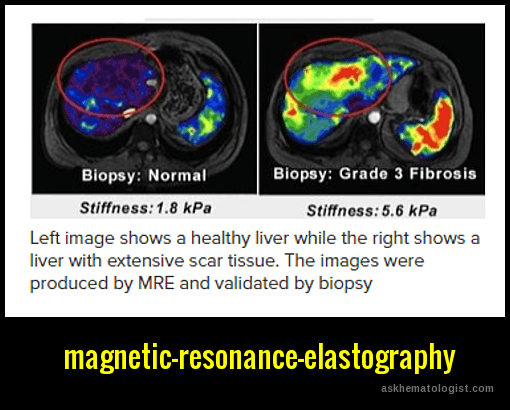 Skin biopsies also show characteristic changes. Increased melanin and hemosiderin is most often found in sweat glands, but blood vessels and dermal tissue may also contain deposits. Establishing or excluding the presence of hepatic cirrhosis is critical in determining prognosis and the risk of developing hepatocellular carcinoma. Results of liver biopsy do not alter treatment strategy.
Treatment:
Phlebotomy:
Treatment is indicated for patients with clinical manifestations, elevated serum ferritin levels (particularly levels > 1000 ng/mL), or elevated transferrin saturation. Asymptomatic patients need only periodic (e.g. yearly) clinical evaluation and measurement of serum iron, ferritin, transferrin saturation, and liver enzymes.
Phlebotomy (venesection) is the simplest and most effective method to remove excess iron. It delays the progression of fibrosis to cirrhosis, sometimes even reversing cirrhotic changes, and prolongs survival, but it does not prevent hepatocellular carcinoma.
About 500 mL of blood (about 250 mg of iron) is removed weekly or biweekly (every other week) until serum ferritin levels reach 20 to 50 ng/mL. Weekly or biweekly phlebotomy may be needed for many months (e.g. if 250 mg of iron are removed per week, 40 weeks will be required to remove 10 g of iron). When iron levels are normal, phlebotomies can be intermittent to maintain ferritin between 50 and 100 ng/mL.
Diabetes mellitus, cardiomyopathy, erectile dysfunction, and other secondary manifestations are treated as indicated. Patients with advanced fibrosis or cirrhosis due to iron overload should be screened for hepatocellular carcinoma every 6 months with a liver ultrasound.
Patients should follow a balanced diet; it is not necessary to restrict consumption of iron-containing foods (e.g. red meat, liver). Alcohol should be consumed only in moderation because it can increase iron absorption and, in high amounts, increases the risk of cirrhosis. Vitamin C supplements should be avoided.
In patients with type 4 disease, tolerance to vigorous phlebotomy is poor; serial monitoring of Hb level and transferrin saturation is required.
Treatment of transferrin deficiency and ceruloplasmin deficiency is experimental; e.g. iron chelators may be better tolerated than phlebotomy because patients typically have anemia.
Chelating Agents:
When anemia or hypoproteinemia is severe, chelating agents, like Deferoxamine (Desferal), may be useful. Deferasirox (Exjade) is a newer oral chelating agent that is effective in thalassemia and secondary iron overload. Its role in primary iron overload has yet to be established. Deferoxamine may also be effective, but the medication can be inconvenient, due to the method of administration, and expensive.
Addressing Organ Damage:
Referral to respective specialists is recommended. Loss of libido and change in secondary sex characteristics are usually managed with hormone replacement or gonadotropin therapy. The degree of cardiac involvement may be assessed by radiography, electrocardiography and other cardiac tests before initiating the venesection treatments. Alcohol consumption should be avoided completely since it increases the risk of cirrhosis.
Conclusion:
Hemochromatosis poses a significant health burden due to the potential for irreversible organ damage if not diagnosed and managed early. A high index of clinical suspicion, supported by appropriate laboratory and genetic testing, is essential for early detection. Phlebotomy remains the cornerstone of treatment, while newer therapeutic options are under investigation. Genetic counselling and family screening are critical to preventing complications in at-risk individuals.
References:
Haemochromatosis Logo Image:  http://haemochromatosis.org.uk
Pietrangelo A: Hereditary hemochromatosis: Pathogenesis, diagnosis, and treatment. Gastroenterology 139:393–408, 2010.
James Peter Adam Hamilton, MD. Hereditary Hemochromatosis – Hematology and Oncology – Merck Manuals Professional Edition http://www.merckmanuals.com/professional/hematology-and-oncology/iron-overload/hereditary-hemochromatosis. Last accessed January 2017.
Genetics Home Reference: hereditary hemochromatosis https://ghr.nlm.nih.gov/condition/hereditary-hemochromatosis#
Type 1 Hereditary Hemochromatosis & HFE Gene | Hemochromatosis Help http://hemochromatosishelp.com/type-1-hereditary-hemochromatosis
Castiella A, Zapata E, Alústiza JM. Non-invasive methods for liver fibrosis prediction in hemochromatosis: One step beyond. World J Hepatol 2010; 2(7): 251-255
Mark R. Pittelkow, Sara Flores. Hemochromatosis    http://www.clinicaladvisor.com/dermatology/hemochromatosis/article/588242/
Mayo Clinic Pioneers Sound Waves to Diagnose Disease https://singularityhub.com/2010/10/06/mayo-clinic-pioneers-sound-waves-to-diagnose-disease/
Schumacher HR Jr. Hemochromatosis and arthritis. Arthritis Rheum. 1964,7:41-50.
Adams P, Brissot P, Powell LW. EASL International Consensus Conference on Haemochromatosis. J Hepatol. 2000;33(3):485-504.
Bacon BR, Adams PC, Kowdley KV, Powell LW, Tavill AS. Diagnosis and management of hemochromatosis: 2011 practice guideline by the American Association for the Study of Liver Diseases. Hepatology. 2011;54(1):328-343.
Pietrangelo A. Hereditary hemochromatosis – a new look at an old disease. N Engl J Med. 2004;350(23):2383-2397.
Summary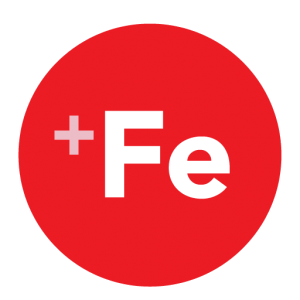 Article Name
Description
Hereditary hemochromatosis is a genetic disorder characterized by excessive iron accumulation that results in tissue damage.
Author
Publisher Name
Publisher Logo